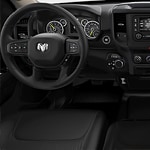 Towing should never make driving more difficult, and with the Ram 1500, a popular light-duty truck, it never will. Drivers in Humboldt, SK can rest assured that the Ram 1500's many safety features will not only make driving simpler but also much more fun.
Backing in and out of tight spaces can be stressful, but the Ram 1500's rear cross-path warning helps to alert drivers to any people or vehicles who cross behind the truck. In addition, the truck also features adaptive cruise control, which makes longer drives as easy as possible. This system, along with the advanced brake assist, automatically slows the vehicle if it detects slower traffic ahead. The system can help drivers more easily maintain a safe distance before reactivating the cruise control.
To experience all of the many safety features of the Ram 1500 for yourself, visit us at South 20 Dodge Chrysler Ltd. to set up a test drive.