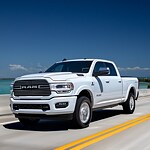 Pickup owners who need a vehicle that handles tough jobs during the week and recreation on the weekends choose the Ram 2500. The trucks are designed for reliability and durability. They additionally offer consumers a number of options to ensure power and performance.
The Ram 2500 is built tough from the ground up. The frame is constructed of a steel frame that provides 50,000 psi of strength. Steel is also used for the cross-members that prevent the frame from twisting. The steel front and rear rails ensure a sturdy foundation for the suspension.
Choose a model having the 6.7-liter turbocharged six-cylinder engine that delivers up to 370 horsepower. The engine is also specially designed to require an oil change every 15,000 miles. Vehicles equipped with the powertrain capably haul up to 17,980 pounds. Come see the new Ram 2500 pickups at our Humboldt, SK South 20 Dodge Chrysler Ltd. location. Take one of the trucks out for a test drive.